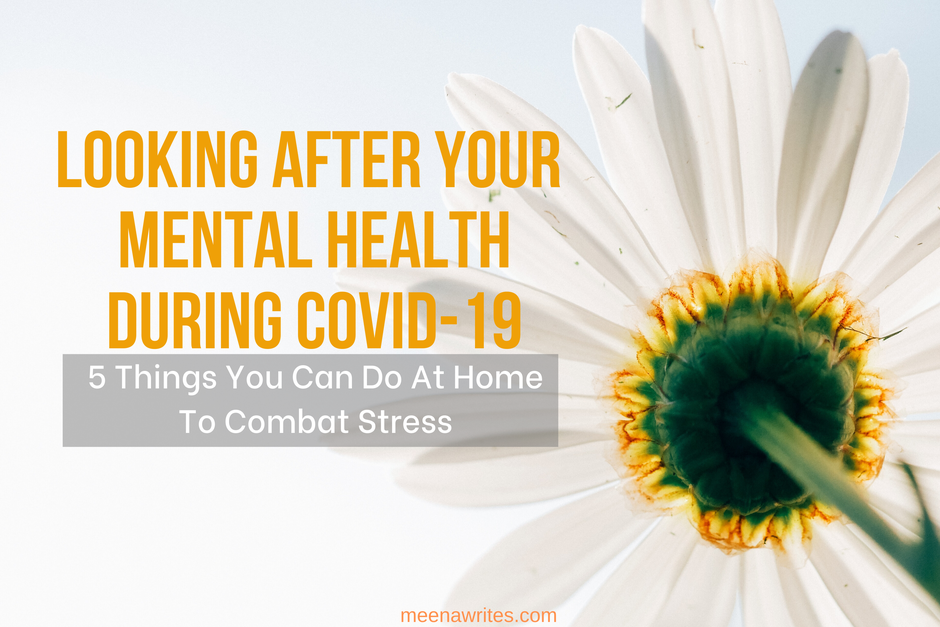 What you can do to look after your mental health during the coronavirus pandemic
Times are uncertain. And you can feel it in the air. Whether you are stuck at home or at work, everyone is talking about the coronavirus. It's on your social media feed, in the news, and on radio. Friends and family are extremely concerned about it—some people are slightly prepared for it, some are confused about what to do and a lot of people are anxious and stressed.
The "what if's" are endless. What if I contract the virus? What if I went to work today? What if I can't go to work? What if the supermarkets shut down? What if my child gets sick? What if I am stuck at home? What if I need a doctor?
This stressful inner dialogue can't be good for your mental health. Sometimes, I too can feel fragments of anxiety and stress creeping into my thoughts, making me feel uncertain, and worried as I go about my day.
So what about you? How are you feeling?
If you already suffer from depression, anxiety or stress, then a pandemic like the COVID-19 can cause your symptoms to sky rocket, resulting in negative health outcomes. Stress and anxiety over a long period of time can also result in heart disease, diabetes, high blood pressure and can even develop into panic disorder and depression.
Amid all the panic around the virus, the last thing you need is to deal with exacerbated symptoms of stress and anxiety.
Remember, your mental health is as important as your physical health. Now more than ever, you should adapt strategies to reduce feelings of anxiety, to calm those butterflies in your stomach and to de-stress as much as you can. 
Here are 5 things you can do to look after your mental health during the COVID-19 pandemic.
1. Limit media coverage
For starters, throw away the TV!
Not literally. But switching off all the news channels is a good start.
Or at least limit the amount of time you spend on these channels so you don't feel anxious. Being exposed to large volumes of negative information can aggravate your feelings of anxiety and stress.
You probably want to know what is going on, but in case you haven't noticed, watching the news only makes you stress more. The palpitations in your heart increase, and the tingling in your stomach makes you sick with anxiety.
So create a balance and set a small amount of time you will spend on news coverage, whether it's TV, radio, social media or reading the news. And then for the rest of the day focus your efforts on other things.
2. Stay informed with quality information
During the COVID-19 pandemic, circumstances are changing continuously, not only for you but for everyone else. As the government and medical bodies make decisions and implement strategies to reduce the impact of the coronavirus, it is important for you to stay informed.
While a lot of information is filtering through every kind of media possible, including WhatsApp groups, you should really focus on information from reputable sources like the government website, or health authority and public health department websites.
These sources will give you accurate up-to-date information. This way you can stay informed and in control of the decisions you make for yourself and your family, and not give in to stress.
Here are some reputable sources to keep you informed:
3. Get the support you need
When your mind is reeling with thoughts of the coronavirus, sometimes the anxiety you experience can show up as fear, an overwhelming sadness, or nervousness.
You may feel extremely anxious which impacts how you function at work (even if you are working from home) and at home. It impairs your productivity and your ability to make clear decisions. It robs you of hope and health, and impairs your relationships with your loved ones.
In times like this, contact your GP, counsellor or psychologist. These professionals will provide the support you need and help you find constructive ways to cope with stress and anxiety in these trying times.
Remember, getting help is important, so pick up the phone and make that appointment.
4. Talk to your loved ones
When you are locked away from the world, it's natural to feel isolated and lonely. These feelings can quickly amplify, adding to your anxiety and impacting your mental health.
A good way to feel connected is to talk to your friends and family regularly, especially if you are isolated, quarantined, or working from home. Talking to the people in your lives helps you air your feelings and emotions about the pandemic, and exchange vital information. It's an opportunity to enrich your life and your relationships with others and also ingrain a sense of normality into your day.
Besides, when you talk to your family and friends, you divert your anxious thoughts away from the pandemic and focus on something else. It's an opportunity to hope, to laugh a little, and share some amusing stories, and instil some fun into your life.
While face-to-face contact is not recommended at this time, you can easily talk to people using your phone or computer. So get on Skype or FaceTime your friend!
Sending messages and texting is also an option, although we know that texting itself can be isolating. So why not pick up the phone and have a chat?
The same goes for people who are working from home. Just because you are practising social distancing or staying in isolation, doesn't mean you cut off contact with your professional and social networks. Connect with your colleagues, people in your social groups, family and friends as regularly as you can. 
Communication technologies are a boon and are proving to be extremely useful during these trying times.
5. Calm yourself
Find ways to calm your mind.
When you are stuck at home it's easy to go stir crazy. And if you are already feeling anxious about the coronavirus situation, then slowing down those erratic and frantic thoughts is a good idea.
Meditation is known to reduce stress and anxiety. It helps you stay focussed on the present moment and reigns in those nasty thoughts that keep wandering around in your mind. Listen to the soothing sounds of mantras, calming music or bird songs when you meditate.  Now, more than ever, practice meditation to soothe your mind.
All you need is 10-15 mins in a day (or longer if you want to) to meditate. If you haven't meditated before, then look up some YouTube videos on how to get started. You can even download apps like Calm or Headspace to help you meditate.
Exercise too has stress-busting benefits. It increases the production of feel-good hormones called endorphins, which naturally make you feel good. Besides when you are exercising you forget about all the other stuff going on around you giving you much needed relief from the realities of the pandemic and stress it causes you.
So take a walk or go for a run if you can go outside (remember to practice social distancing). If not, then exercise at home with the help of an app or an online video.  
Or practice yoga—also known to reduce stress and anxiety and enhance your mood. 
Choose activities that keep you busy, give you a sense of purpose and soothe your mind.  Start on some creative endeavours like painting and art. Play a board game or get into gaming on your PS4 if you like. Catch up on your reading (if you can't get to the library or bookstore, download some books on your e-reader or tablet). Watch some funny shows on TV and make space for fun and laughter in your day.
 And yes, try to maintain your routine as much as possible with the same wake up and sleep times.
Your mental health is important
You may be feeling helpless during the Covid-19 pandemic. There are steps you can take to ensure you stay healthy and keep others safe during this time. Follow the recommendations outlined by WHO and authorities in your country. 
And also look after your mental health so that you can cope with this new way of living (for a while) without a huge impact on your wellbeing.

Want to pin this post? 
Share the love with these Pinterest-friendly images! Thanks x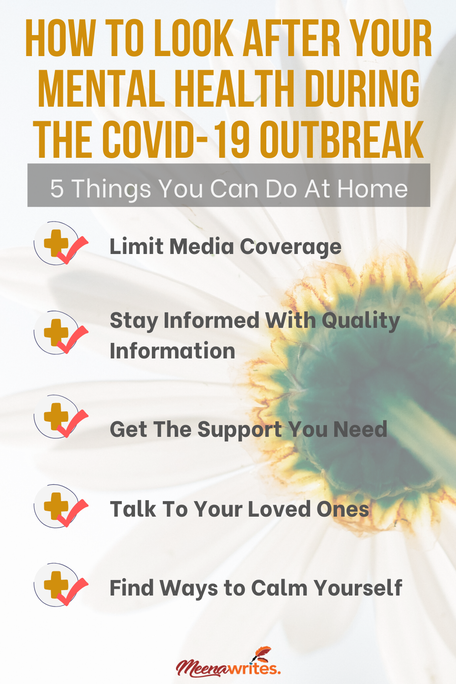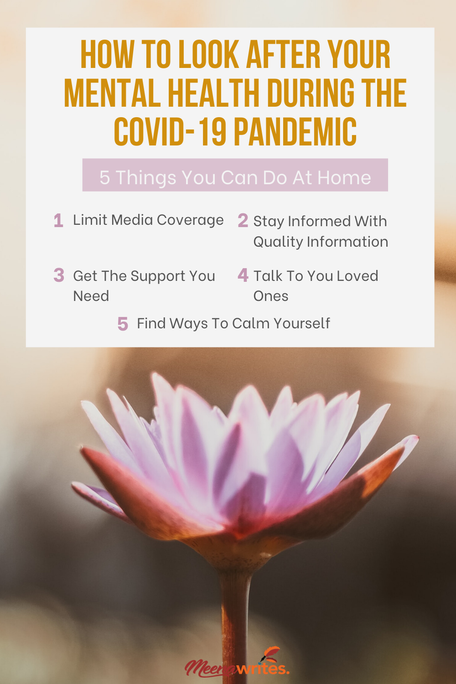 Need a writer take your health and wellness content
to the next level?
Contact Meena Writes for a chat today.