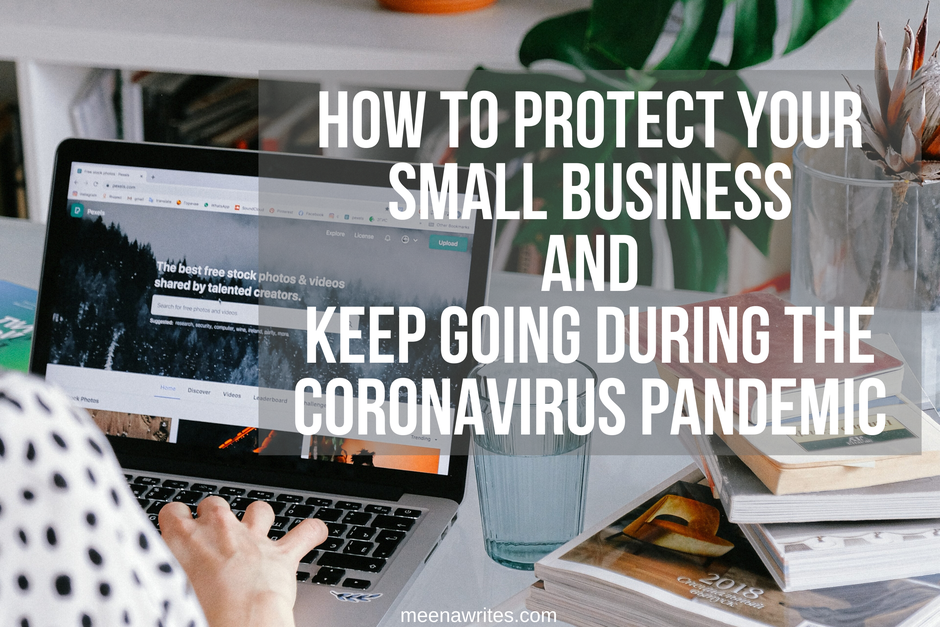 How to protect your small business and keep going during Covid-19
Businesses all over the world are facing some kind of disruption due to the coronavirus pandemic. In Australia, 60% of businesses are affected by Covid-19, while in the U.S., 3.3 million people have filed for unemployment.
The coronavirus pandemic has caused governments to enact and implement strategies to slow the spread of the virus, which has brought businesses and services like yours to a standstill or working in a restricted mode. 
This is not an ideal situation, and you want to continue your business normally. But rules on isolation and social distancing make it difficult for you to do so without having a dramatic impact on your business.
The circumstance under which your business operates has changed, and that means you need to make vital decisions about the future of your business and how to keep operating under Covid-19.
Whether you close your doors temporarily or reduce your services, there are a few things you can do to protect your business for the future and ensure that you are still operating during this pandemic.
Communicate with your customers
Let your customers know if you are closing your business temporarily or are changing the way you provide your services. This pandemic is impacting their lives too and they are probably wondering how they can access your products and services.
Be open and honest and communicate the changes you make. For example, if you have closed the doors to your physical store and have moved online, then let your customers know how this will work for them. 
Send out emails to subscribers describing the circumstances around your business and give them clear, step-by-step advice on what happens next.
Make sure you include this information on your website, and also communicate with your social media audience. Create relevant social posts and answer questions that come up on your social channels.
It's also a good idea to include an FAQ section on your site that answers pertinent questions about the pandemic and the impact it has on your services. You can answer questions on how your customers can buy your products or services, how they can contact you, changes in delivery times, and how to access your services online.
Don't forget to update your Google Business Page to reflect the change in your work hours and services.
Seek support from your government
The coronavirus pandemic has also put a massive financial strain on our economy. Countries all over the world are struggling with the repercussions of job losses and closed businesses. 
However, governments have stepped in to offer help in the form of loans and short-term monetary packages to help businesses tide over this uncertain period.
Look for information on what your government is doing to help your business. Learn about government stimulus packages or speak to your accountant for more details and follow up on the steps required to keep your finances and your business going.
Help customers with useful content
Creating content during these stressful times may be the last thing you want to do, but communicating through content with your audience is one of the most important things you can do.
Create good content like blog posts, social media posts or newsletters that convey what is going on with your market, how your services have changed and what you can do to help your consumers. Try to help them make sense of all the disruption around them and show them how they can steer through the pandemic with confidence.
Offer helpful advice on how your clients can handle this pandemic, inform them about policies, regulations, new research and more, and uplift them with inspiring stories relating to your market and Covid-19.
Now more than ever is the time to create supportive and credible content so you can maintain and build your relationship and trust with your audience and truly be of service to them.
Reinvent how you work
Everyone is in crisis mode at the moment. This means that not only are your customers and clients working on short-term strategies to survive Covid-19, but so are businesses.  For many businesses sales have dropped dramatically and some businesses might not make it to the end of the year.
It's not a question of whether you will survive, but how you can stay operational during the pandemic. It's time to adapt new ways of working and many businesses are learning to do just that.
The Covid-19 pandemic is pushing businesses to embrace digital technologies. This means that working from home or remotely is a safe option to protect you from the coronavirus. It is also a viable option to look after your business.
But for some businesses, working remotely might not be sustainable. You probably need some staff to continue operations.  
Have a plan in place for contingencies and talk to your employees about policies and regulations regarding distancing from others, sanitisation and other changes to your business operation. Assess your business and reduce the risk of infection to you, your staff and your customers.
Try to shift some of your business online if you haven't done so already. For example, if you were selling from a physical store but have had to close the doors, then create an online store and sell.
If your business offers face-to-face services, then create a virtual service which your clients can access online using video and audio technology. For example, therapists and physicians can adopt telehealth technology or offer video consultations.
The coronavirus has put businesses in a predicament where the options are to close business and walk away or reinvent and pivot from crisis mode to growth mode.
Upgrade your skills
You will probably implement new technology and processes to keep your business online. 
Some technology and ways of doing things will be unfamiliar to you and as you adapt and reinvent your business, you may need to understand and learn about these new methods.
Invest in learning about technology, its features and how to make it work for your business during the Covid-19 and beyond. Get familiar with new skills and processes that you may now need to run your business.
For example, you may have moved your business online and may need to learn about creating a website and writing copy for the site.
Perhaps you need to learn about video production to create YouTube videos or conduct interactive classes.
Or you may have introduced virtual client meetings for your sales team and require your team to train in online meeting technology and etiquette.
Actively learn and hone your digital skills and those of your employees so you can tackle and survive during Covid-19 and also future-proof your business's growth.
Bill Gates, Co-founder of Microsoft,  recently said in conversation with Daniel Roth (Editor-in-Chief of LinkedIn), that it will be awhile before life goes back to normal and the new normal will be different from what we have been used to.
The new normal for businesses like yours is also evolving to accommodate the many restrictions we face because of the coronavirus pandemic. But by adapting and thinking out of the box, your business can survive the pandemic. 
And hopefully the above tips will help you protect your business and lay the foundation for a thriving business beyond Covid-19.
---
Want to pin this post? 
Share the love with these Pinterest-friendly images! Thanks x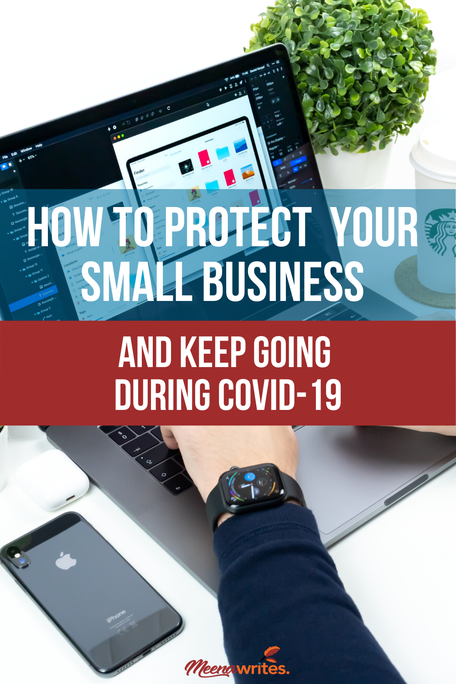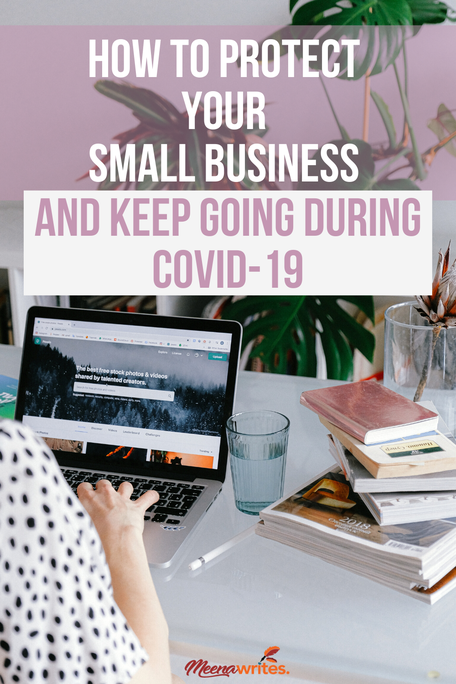 Need help to create valuable and helpful content during the Covid-19 crisis?
Contact Meena Writes for a chat today.