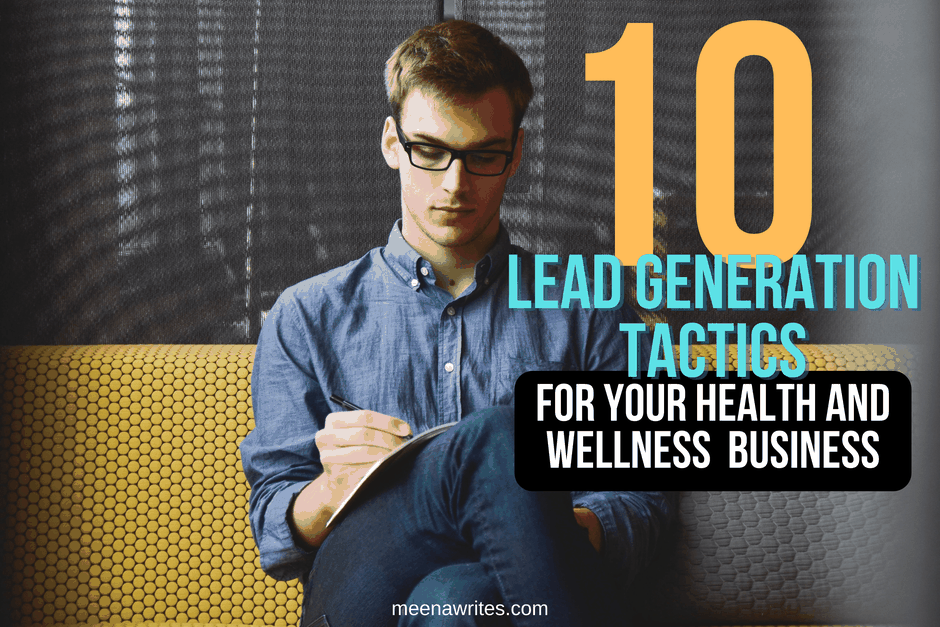 10 Lead Generation Tactics for Your Health and Wellness Business
In the last decade, the health and wellness industry has exploded exponentially, reaching a value of US$ 3,294 Billion in 2021. Based on its current track, this industry is expected to grow at a rate of 4.2% between 2022 and 2027.
With that kind of growth, various businesses and service providers in this sector, whether B2B or B2C, are competing with similar businesses for new patients, clients, and customers. That is why lead generation is vital, as without new leads, your business is stagnant and does to grow.
What is a lead?
It is simply a person or another business who is interested in your products or services. Businesses capture leads using various methods, and nurture them further to see if they are they are a good fit for what the business sells. However, not every lead will convert into a sale.
Some leads, also known as soft leads, will give their contact information to businesses in exchange for something they perceive as valuable (e.g. an eBook), but not making any further commitments. However, some of these leads may move further down the sales funnel (through communication, relationship building and nurturing) and convert into sales.
But making sales is not the only purpose of capturing leads. Soft leads can also act as ambassadors for your business and can bring referrals to your business from potential clients and customers.
How to generate more leads for your health and wellness business
There are several ways health and wellness businesses can generate leads, and depending on the type of business you have, you can implement some methods to get new customers into your door.
In this article, we look are 10 smart and effective lead generation strategies for health and wellness businesses and services:
1. Quality Blog Posts
Health and wellness businesses can generate more leads with a strong internet presence. A well-planned and structured website is necessary to generate leads, but so is the quality of the content on your website.
We already know that one goal of content marketing is lead generation. Consistent quality blogs, which are the cornerstone of effective content marketing, offer your prospects the information they seek through well-informed, engaging, and helpful blogs, gathering momentum and generating more leads,
Health and wellness businesses can gain the attention of their audience through unique, meaningful, and relevant content, such as customer experience stories, advice-based blogs, and data-driven content (especially for B2B businesses) to attract new leads.
2. Exclusive Content
Another way to generate leads is to create gated content, which essentially means that visitors can access premium content, like membership services, premium workshops, eBooks, research and reports, videos, and other in-depth content, by providing their contact information via a specific landing page.
Gated content is an effective strategy to gain quality leads, but it's vital to provide quality information that your audience will find nowhere else. It's about exclusivity and giving them value through your content.
3. Host Webinars
Webinars are an effective lead generation strategy, especially when target users can access a workshop, a course, or a tutorial that solves a problem for them. The reason webinars produce leads is that they provide value to your audience, for which they will gladly hand over their email address and other vital information.
It is also an opportunity for businesses to highlight their products and services and show their expertise. For example, health tech companies can create short webinars to help their customers understand healthcare-related IT solutions and how these solutions can help them in their business or practice.
According to 99% of marketers in a 2021 benchmark report, webinars remain one of the core strategies in the marketing and sales cycle, with 72% saying webinars have a direct impact on revenue.
For marketers, webinars are cost effective as they help lower the cost-per-lead and can convert 20-40% of attendees into qualified leads.
4. Email Marketing
Email continues to be the key driver of acquisition and customer retention, making it an effective strategy to reach out to potential customers and gather new leads.
Email marketing gives your health-related business an opportunity to nurture soft leads at every stage in the buying process and convert them into clients. Consistent communication with your email subscribers through emails and newsletters builds trust and credibility and is a powerful lead generation strategy.
Out of all the different types of emails, newsletters are most widely used by businesses, specifically by B2B companies, and are an integral part of nearly 81% of B2B marketers.
Health and wellness related newsletters that offer valuable information have the power to engage, reengage and retain audiences across other channels, like your website and social media. It is one of the best ways to nurture leads.
Besides, a well-planned email marketing strategy also offers a robust ROI with a return of $42 for every $1 spent. So, you can imagine how valuable and cost-effective this tool is for engagement, lead generation and growing your practice.

5. Chatbots and Live Chat
Both live chat and chatbots play an important role in lead generation for health and wellness companies, besides providing essential customer support.
AI powered chatbots are the fastest growing communication channel designed to handle high volumes of repeat questions and queries from prospects and healthcare professionals, thus streamlining customer support, reducing response time, and generating more leads by engaging with visitors and collecting their information 24/7.
Healthcare chatbots can provide various services, such as scheduling appointments, sending emails, resolving client issues, checking for symptoms, and even managing medicines. According to the Global Chatbots in Healthcare Market–Analysis and Forecast, 2019-2029, chatbots in healthcare generated a revenue of $36.5 million in 2018, highlighting the value of chatbots in improving client/patient experience.
Live chats too, have their place in lead generation, as they replicate ins-person client service experiences.
6. Referral Marketing
Healthcare and wellness businesses can use referral marketing to increase leads and drive customer acquisition. This is a cost-effective strategy with a lower cost per lead, according to Social Media Today.
Referral marketing differs from word-of-mouth referrals, although both help generate new leads. Referral marketing is an intentional form of marketing where businesses encourage their customers to tell others about the business, its products, and services. Word-of-mouth is a spontaneous activity where happy customers or clients will refer the business to their family and friends.
In the health and wellness space, most people seek endorsements from past or present clients before they connect with a product or a service. Prospects prefer businesses and services that are referred to them. In fact, referrals have a conversion rate of 7.2% according to Ruler Analytics' Conversion Benchmark Report for Healthcare, making referral marketing a popular tactic for lead generation.
How to implement referral marketing? You can try some of these:
Create shareable content like social media or blog posts
Partner with complementary businesses/services to cross-promote
Ask for referrals from customers/clients as part of a referral program
Deliver exceptional experience to your customers/clients at all touch points so that they are happy to refer you to others. 
7. Social Selling
Social networks are an important source of health and wellness information for most people, making it one of the key channels to distribute health and wellness information and gather new leads.
But using social media for marketing can be tricky for health and wellness businesses. Not only does the content have to be engaging but also needs to be informative and accurate. Plus, as a health-related business, you have to follow various rules and regulations relating to compliance, such as the advertising guidelines laid out by the Australian Health Practitioner Regulation Agency (AHPRA). 
However, the key to effective social media marketing is to implement strategic social selling. Instead of just using social media to distribute content, it's important to connect further with those that engage with the content, particularly those that qualify as ideal leads for the business. 
The aim of social selling is to create long-term connections through targeted conversations and engagement over the right social media platform. For most B2B businesses, LinkedIn has proved to be an invaluable network, generating nearly 80% of marketing leads from social media. And it can be helpful for B2B healthcare businesses to use LinkedIn outreach strategies to connect and engage with potential leads.
Pinterest is another powerful tool for lead generation, especially for wellness businesses. Nearly 77% of Pinterest users admit discovering new products, services or brands while browsing the platform.
Other social media platforms, such as Twitter, also see good lead generation results of about 82% of all social media leads.
8. Local SEO
For those healthcare and wellness service providers whose target market is within the proximity of their physical business, local search engine optimization is vital for lead generation.
Most people will use search engines like Google or Bing to find local healthcare and wellness service providers in their local area. According to local search behaviour research by Google, four in five consumers want search ads to be customised to their city, zip code or immediate surroundings. In other words, consumers search with location and proximity in mind.
That is why local SEO strategies are important along with a well-designed website, to not only to improve visibility in search rankings but to increase reach, engagement and generate relevant leads from people searching for your services within your local area of practice.
9. Hold Events
Another activity that can help your business get leads is to host events. In fact, businesses and services in the healthcare and wellness sector are in a prime position to hold events, as they are all about community, and hosting events is a great way to serve the community through interaction and engagement.
Both in-person and virtual events are effective in engaging with your audience and give you the opportunity to inform your audience, demonstrate new research or technologies, create awareness about your services and products, and build trust in your brand.
With events, you develop a closer relationship as the community gets the chance to interact with you and your business, whether it is a workshop, an online class, a fundraiser, or a health screening.
10. Click Popups
Although entry, exit, timed and scroll pop-ups are effective, click popups are particularly efficient in generating qualified leads directly from highly interested traffic from the website.
Click popups are the least intrusive of all the popups, and are only activated when a visitor clicks on the campaign text or image. They quickly convert without taking the lead to another landing page, which makes it another powerful lead generation tool right from your website.
Get Started with Lead Generation
Leads play an important role in your health and wellness business. Without leads, your business or practice cannot grow, as you will not have new clients or customers. That is why generating and capturing leads should be integral to your marketing strategy.
There is no magic formula for lead generation. However, there are quite a few effective strategies, such as those discussed above, that can be incorporated into your marketing and business processes to help you gain quality leads at every touchpoint with your audience.
If you are looking for an experienced content writer who can help you create lead generating content, contact Meena or book a quick call to talk about your goals how they can be achieved.
Want to Pin this post?
Share the love with these Pinterest-friendly images! Thanks!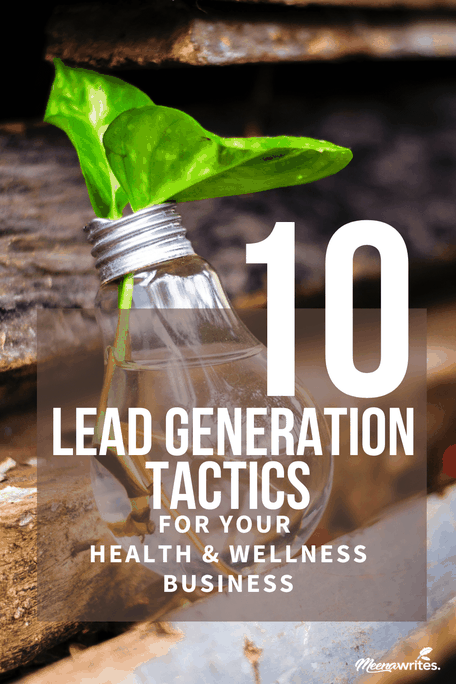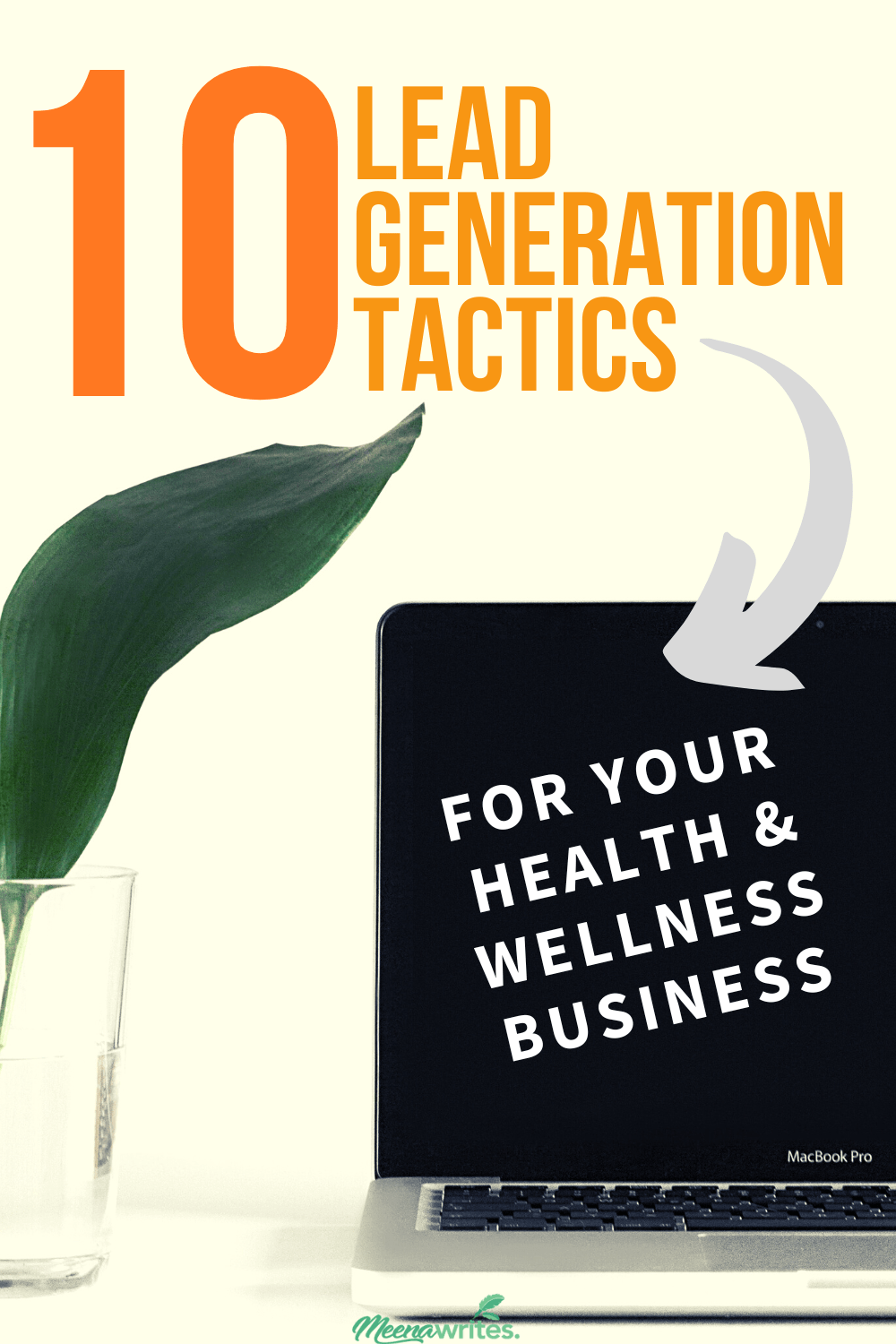 If you need an experienced health and wellness content writer to help you increase traffic to your website, get more leads and grow your business with the power of words, contact Meena Writes