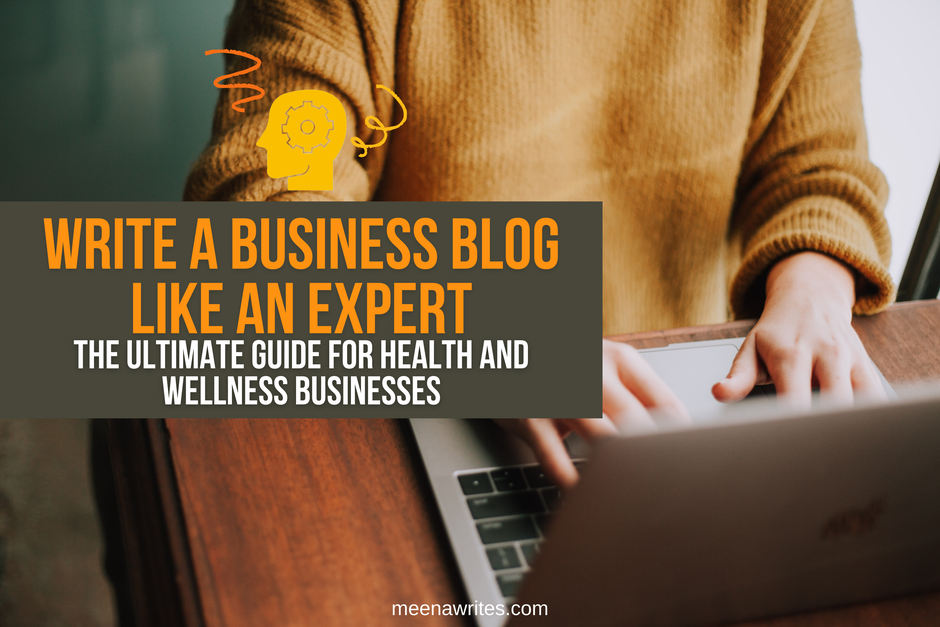 Everything you need to know about writing a business blog: A guide for health and wellness businesses
So, you've started a business blog but are wondering how to write an article for the blog?
You sit at your laptop, fingers poised over the keyboard, and your mind goes blank. This is quite a common reaction when you are firing on all cylinders, but don't really have a plan for your blog and are not so sure what to write. 
You struggle with the structure of the blog post; you wonder what to write about, and you do not know what you want your readers to do. 
Sounds familiar?
Writing a health and wellness blog post requires planning, audience insight, and evidence-based research. After all, your business blog should be worth the time and effort you put in and deliver positive results for your business.
There are some important guidelines, strategies, and steps that can help you write effective blog posts and achieve the results you desire. Let's look at these:
1. Connect business goals to blogging goals
A good starting point is to identify the goals for your blog. Why are you starting a health and wellness blog? What is your motivation behind it? Have you set any fixed (but specific) goals for the blog?
To see any success from a business blog, you need to have clear objectives or goals for your blog so that you can create a plan and provide direction to the blog. Clear objectives also give you the means to measure the results of each blog post.
For a successful blog, your blogging goals should align with the overall objectives of your health and wellness practice.
After all, you are investing time and money in building a blog and want to see specific returns that benefit your business. These returns could be new traffic to your website, more leads for your sales team, or building authority for your expertise.
If you're wondering how to set your blogging goals, it may be useful to break down your business goals. For example, if one of your business goals is to grow your health and wellness business by 25% in 12 months, then you can set your business blog goals to attract 5 new clients every month, or the increase the visibility of your business and your website.
Measurable, specific, and time-bound goals help you stay on course and keep track of your blogging effort and rewards.
2. Understand your audience
You can't write a blog post without knowing whom you are writing to/for. Knowing your dream clients is a vital step in any business, as all communication you create or write is addressed to them, whether it is a blog post, a newsletter, copy on your website, social media post, or any other marketing message.
For your message to have a meaningful impact on your clients, you need to know what they are all about. 
These are some questions you can ask when developing a character analysis of your ideal client, also known as a buyer persona:
Where are they from?
What do they do?
What are they thinking?
How do they live their lives?
What bothers them?
Where are they spending their time?
What pains them the most? 
If you want to know more about buyer personas and how to develop them, here is a great resource by HubSpot.
Once you have a good understanding of your buyer persona, you will also understand and know what topics and blog posts they would like to read, and how you can offer your expertise with helpful advice and information.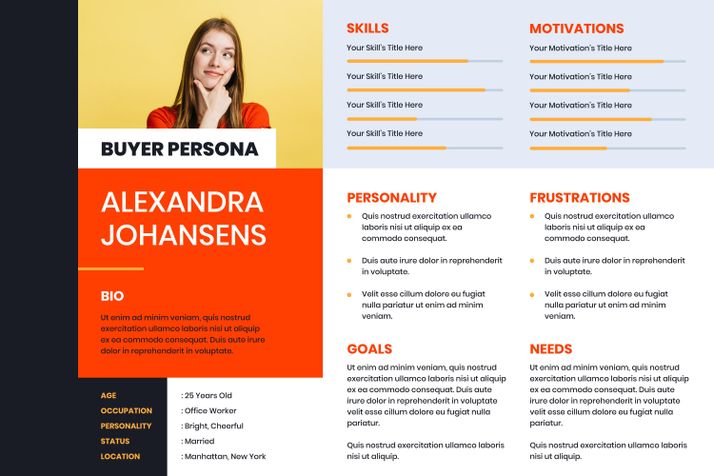 3. Plan blog posts
Writing a blog post takes time and effort, and knowing what to write and when to publish can save you a lot of time and money. For a busy health and wellness practice, this can translate to more time to see clients, which adds to the bottom line of your business.
Planning all your blog posts in advance is like developing a road map that takes you from point A to point B, from ideas, keywords, and goals to published blog posts and conversions.
Without this roadmap, it's quite easy to get lost in the web of online marketing and content creation. And with that, writing blogs for your business, take a back seat as your other business priorities take over.
But ignoring your content marketing can have long term negative consequences on your web traffic, which then affects your reach. And before you know it, your website just exists on the world wide web and goes unnoticed, not performing and doing what it is supposed to do—attract visitors, inform them, and convert them into customers.
A content plan will help you in the following ways:
You will know what type of content to produce for your audience.
You will be able to write on topics your dream client needs to know about.
You will know when to publish the content and where (the places your audience hangs out)
You will stay on track and produce content (blogs) consistently
Some marketers suggest planning blog posts for the entire year. But that can be a daunting task, especially when you are first starting off on a business blog and don't have a clear content strategy in place.
It's simpler to make a quarterly plan and focus on a three-month period at a time.
While you can use content planning tools like CoSchedule, Trello, and Asana to create your content plan, the easiest way to make a content plan is to use an Excel or Google spreadsheet and include the following information:
Title/topic of the blog post
Due date for when the blog
Publishing date for when it goes live on your website
Target keywords to be included in each post
Marketing events/activities or health days around which the blog is planned
Social media post (content) related to the blog post
Links to any other content assets, such as a downloadable PDF (if included in the blog post)
If you want to know more about developing your own content plan and brainstorming topic ideas, here is a helpful resource.

4. Brainstorm topic ideas
Coming up with blog post topic ideas doesn't happen in a day. But it's a good idea to allocate a set time to sit down for a brainstorming session and jot down the ideas you have for blog posts.
A more efficient method of generating topic ideas is to dive into some research. By this I mean delving into keyword research and using popular tools like Google Keyword Planner, Moz Keyword Explorer, Ubersuggest, and Answer the Public to find topics, words, and phrases that people care about and are searching for online.
The other research necessary for blog topic ideas is to look at your competitors and see the kind of blogs they are publishing. What keywords are they using? Are these blogs performing well on social media? Do you see any gaps in these topics that you can write about? Can you provide a different perspective on these topics?
By asking these questions and looking at these blog posts with a critical eye, you will be surprised by how many other blog topic ideas you can brainstorm and generate.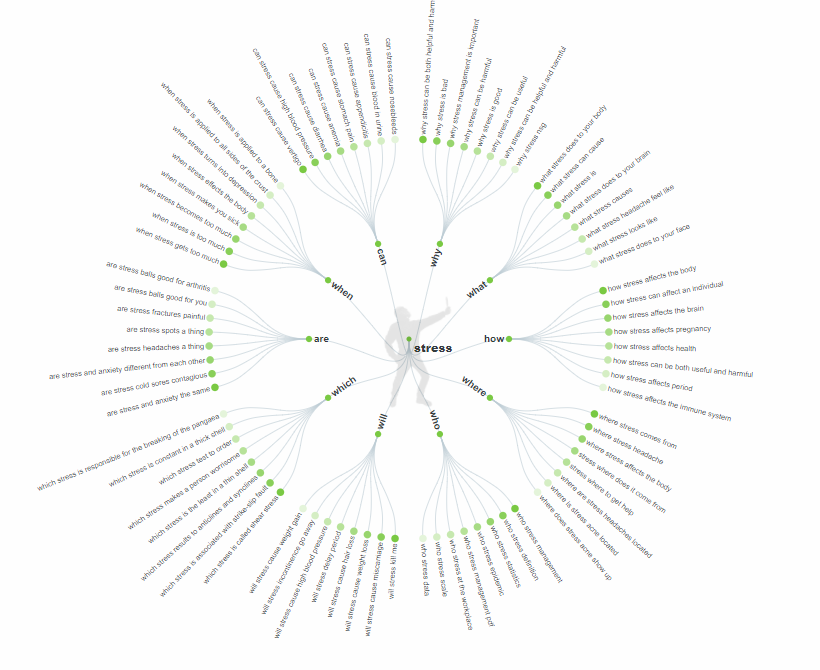 Other ways to discover blog post topic ideas
There are no hard and fast rules for brainstorming topic ideas, but having knowledge of some of the strategies used by marketers can be helpful. You can also discover new topic ideas for your blog by using the following three methods:
1. Social listening
Pay attention to what your dream clients are saying on social media or elsewhere. Go through popular posts or groups and listen in on conversations. Are they experiencing anything painful for which they are looking for answers? 
Go one step further and engage with people and offer advice and be helpful. Or just learn to connect and build relationships. Make a note of the questions they ask and the topics they talk about. These are all ideas for blog topics.
2. Use Google's suggestion
When you type in a query word in Google search, it comes up with a few suggested phrases. These phrases are queries people make when looking for information on Google. For you, these suggested phrases are the root of many topic ideas.
3. Keyword research
Keyword research tells you what topics people are searching for and how popular these topics are amongst your audience. Use keyword research tools to find topics around which you can create your content. These will typically be 'Pillar Topics' which broadly cover a particular topic, such as "weight loss" or "Massage".
Based on these pillar topics, you can now look for specific long-tail keywords to target and write about in your blog post. For example, "how to lose weight after pregnancy" or "massage techniques for back pain" will be topic ideas.
It's also important to check your competitor's keywords to see what they are ranking for. These will also give you topic ideas and look for gaps that you can fill with your blog posts.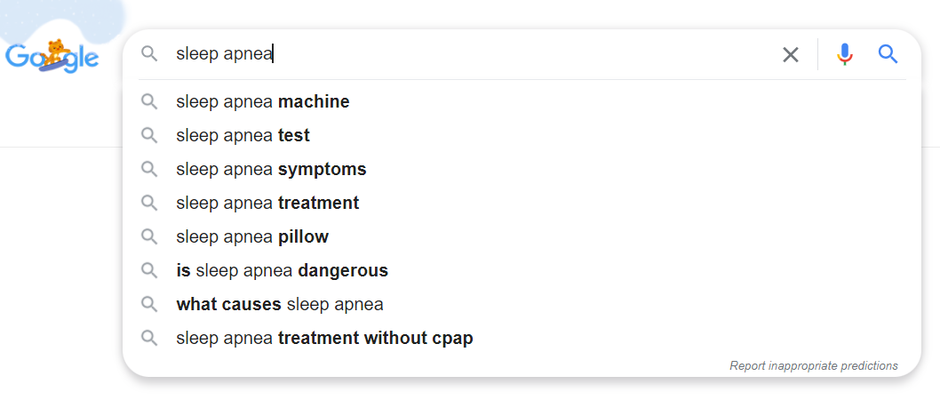 5. Create a blog post outline
You won't build a house without a blueprint. Am I right? In the same way, you shouldn't write a blog post without a plan or a structure.
Having an outline for your blog post will help you write quickly and efficiently, while creating a blog post that is clear, relevant and well-written. With clarity and an outline, you will not miss out on any important information, and the blog will engage better with your readers. It also makes it easier for your audience to read and understand the content of the post.
To plan the outline of your blog post, organise the information into clear sections and sub-sections, including lists and bullet points.
Remember, creating an outline does not have to be an extensive exercise. You just have to make a quick plan to organise your blog post before you actually start writing.
But first let's understand the anatomy of a blog post. A blog post comprises the following sections:
Headline
Introduction (Hook, Transition, Summary)
Body
Conclusion
Call-to-action
Headline
The headline is one of the most important pieces of content you will write for your blog post. That's because most people read the headline first and decide whether they want to read your blog post any further. This means that if your headline doesn't pique their curiosity or engage with them, they will most likely NOT read your blog post.
Besides affecting your click-through rate, a blog post headline also sets the tone of your post. It tells your reader what your blog post is about and how it will help them.
In short, a blog post headline must:
Address your dream client and be relevant to them, and
Be of value to your dream client
Here are some tips on writing a good headline for your blog post;
While writing a blog post headline, avoid using cute and clever headings, as these will not appeal to your dream clients. It doesn't address their problems, nor does it show them a solution, resulting in readers checking out of your business blog.
When writing headlines, consider them from the perspective of your dream clients? How do they think about this topic? What are the common web search terms on this topic? Which words will engage with them?
Write at least 4 to 5 headlines or more if you are on a roll. And then leave them on the page as you move on to the next part of your blog post.
Come back to your headlines after you have finished the blog post to select the one that is most appropriate.
Hook
The hook is part of the introduction section of your blog post. This is the next piece of content that draws your reader further into the blog.
A hook can be a word, a few words, or a few sentences—enough to intrigue and "hook" the reader. It can even be a question, a quick anecdote, an interesting fact, or the end of the story (what are the results from the service/products offered by you).
In the blog post shown in the image, this is the hook: "We live in an increasingly noisy world."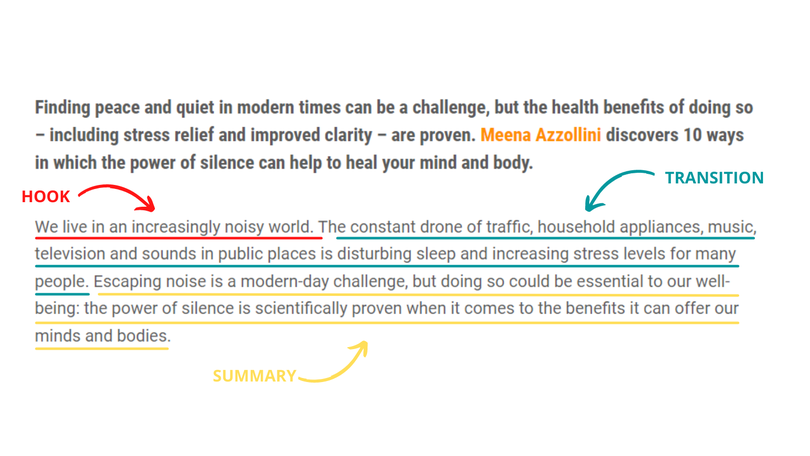 Transition
The transition is another part of the introduction that leads the reader from the hook to the body of the blog post. It is usually a sentence or two long and it clarifies the intent of the blog post even further.
The transition in the blog post example (see image) is, "The constant drone of traffic, household appliances, music, television and sounds in public places is disturbing sleep and increasing stress levels for many people. "
Summary
This section of the introduction summarises what the reader should expect from the blog post and entices the reader to read the blog.
The summary in the example is: "Escaping noise is a modern-day challenge but doing so could be essential to our well-being: the power of silence is scientifically proven when it comes to the benefits it can offer our minds and bodies."
Ideally, write the introduction section of your blog post in the end. Although, work on a rough introduction draft when you begin writing your blog post just so you get into the flow of the article.
Come back to this section once you have finished writing the blog post, including the conclusion. By then, you have expanded on the ideas and information related to the topic, which will give you an idea of what to write in the introduction section of the blog.
Body
The body is the main section of a blog post where you will write about the chosen blog post topic. Here you will take your reader on a journey from one paragraph to another as you build on the angle and perspective of the blog post topic.
This section becomes easier to write if you have developed an outline initially, which is highly recommended. Fill out the various sections and work your way through the outline as you expand on the points.
The outline is not set in stone. As you are writing these sections, you may realise that you need to add a few more subheadings or even remove some sections. Remember, the outline is flexible and you can always change it to suit the blog post.
Conduct additional research for more information and add data and evidence to back your points. You can even include comments from other experts to drive home your point.
It's vital to give attribution to information from external sources, such as linking to academic studies or websites from where you have derived the information. Remember to check the facts. There are many articles online that piggyback information from other articles and sometimes the facts don't check out. Try to get to the source of the information and verify it before using it in your blog.
Conclusion
Now that you've written most of the blog post, it's time to conclude the article. This is another section that can feel difficult to write, especially when you have said all that you have to say in the body of your blog post. In that case, write a short and simple conclusion with a sentence or two to reiterate and emphasise your point.
A quick formula to follow when writing a conclusion is:
Summarise the main points of the blog. You can write a few sentences or a paragraph. But do not use the same language or sentences you have already used in the main sections of the blog.
End the post with the results your readers will achieve when they read the post. Present an actionable solution. For example, "Now that you know how massage helps your back pain, you can…."
You can even end with a question which inspires your readers to give your blog post more thought and share their thoughts through comments.
Call-to-action
A call-to-action is a directive you give to your readers to take further action. The idea behind a call-to-action is to facilitate further engagement with them.
You can tell them to read another blog post, subscribe to your newsletters, or contact you for an appointment.
If you have a product or service, you can add related calls-to-action encouraging them to use your products or services and how it can help solve their problems, such as "download a whitepaper", or "sign up for (a service)".
Here are some quick tips on writing a call-to-action:
Be clear about the benefit you are offering
Use persuasive words and language, like "Free for a limited time…" or "Get this ebook instantly and start practising the yoga for back pain today"
Use action words to tell them what to do, like "Download Now" or "Buy" or "Read this blog about..."
6. Structuring your blog post
Structure is vitally important when you are writing a blog post. Remember, most people scan blog posts rather than read it word for word. They skim over important points and then decide if they should read the post.
Here are some important elements of a blog structure and how to use these them effectively in a blog post:
Headings and subheadings
To make it easier for your readers to scan, you need to add a heading and subheadings to your blog post. Heading and subheadings give a natural structure to your blog and act as signposts guiding your readers from one paragraph to another. It lets the reader know what the section of the blog is about and helps them decide if they want to read it.
Heading and subheadings are also important for accessibility. As the heading and subheadings are in HTML (HyperText Markup Language), it enables screen readers to understand the structure of the article and read it aloud. This is especially vital for people who can't read easily from a screen.
By listening to the screen reader, visually impaired people can understand the context and content of the blog.
Even search engines love headings and subheadings and it helps improve the SEO of your blog post. When you use keywords and key phrases in the heading and subheadings, it enables search engines to understand the topic of your content and it improves your on-page SEO scores.
Here is a great article about on-page SEO and how to incorporate it into your blog post.
Notice that I use the word "heading" and not "headings." That's because your blog post should have only one heading, which is the title of your blog post. This is represented by the H1 tag in the HTML source code of your page. The H1 or the heading should describe the entire content of your blog post.
However, you can have many subheadings in a blog post, which follows a hierarchy of h2, h3, h4 and so forth in HTML.
Here is a sample structure of a blog post:
<H1> Massage for Back Pain
<H2> Why massage is good for back pain
<H3> Reason 1
<H3> Reason 3
<H3> Reason 3
<H2> Types of massage for back pain
<H3> Type 1
<H3> Type 2
<H3> Type 3
<H2> Conclusion
Paragraphs
According to Grammarly, "a paragraph is a collection of sentences all related to a central topic, idea, or theme. Paragraphs act as structural tools for writers to organise their thoughts into an ideal progression, and they also help readers process those thoughts effortlessly."
Imagine reading a gigantic wall of text. How difficult is that to read? Not to mention the eye strain and subsequent headache that may follow.
Paragraphs help break the content into smaller sections and make your blog post easier to read. Besides, most people typically read blog posts on a screen. That's why shorter paragraphs are better than longer ones—for the sake of readability.
White space
Shorter paragraphs—a few sentences long, or even just one sentence—increases white space in your blog.
White space gives a sense of freedom to a blog post. It helps the reader navigate the blog with no strain. It's easier on the eyes of the reader and improves readability, thus translating to better engagement. 
See what white space is in the image below.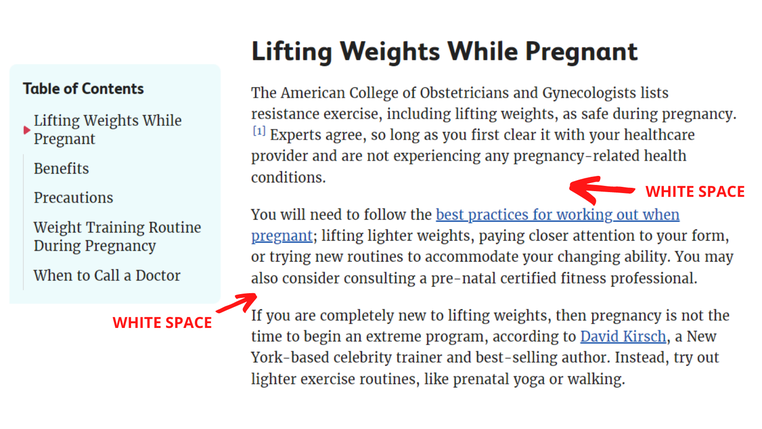 Images
Images in blog posts are another way to provide space between text, just like white space. But they also add a visual element to your blog post, which gives the readers a break from reading and entices them to engage with your content visually.
Images improve engagement and people are more likely to remember your blog post too.
Did you know people will only recall 10% of the information they hear three days later but will remember 65% of it when you add a picture?
That's because our brains remember pictures better than words, known as the Picture Superiority Effect.
Add relevant images to your blog. They should relate to the topic of your blog post. You can add photos, graphics, or infographics. You can even add a video if you think it will apply to your blog post.
Start writing your health and wellness blog post
Writing an effective blog post can take time and effort. But when done right, you can reap the benefits of brand awareness, more traffic to your website, becoming a thought leader and ultimately, increasing sales and conversions.
Now that you know how to write a health and wellness related blog post for your business, carve out some time to research topics and keywords and develop a plan for future blog posts. Blogging with a structure will help you write effective blog posts which your readers will enjoy and share with others, thus highlighting your expertise and boosting your business.
If you need an experienced health and wellness content writer to help you write regular blogs for your business, contact Meena Writes 
---
 Want to pin this post? 
Share the love with these Pinterest-friendly images! Thanks!
If you need an experienced health and wellness content writer to help you write regular blogs for your business, 
Contact Meena Writes